we gotta sustain this community engagement hype and get another 1 cent pump
Can anyone translate this article I can't find a way to do it. I believe it has to do with icons Dpass
just use googles auto transalte
Three alliances of the two companies are participating in the unified front of the mobile identity card (DID) … Telecommunications - Financial alliance, the growing DID market
Listen to the text Set
Enter the article 2019.07.12. 4:12 pm
Good Okay Rate2
[Summary botbeta](javascript:
SK Telecom, KT, and LG Uplus will form a unified front for building mobile ID (distributed ID , DID ) ecosystem based on block chain . It is expected that it will be possible to make public complaints and financial transactions with one touch of the smartphone through easy authentication of any company regardless of which company it is using.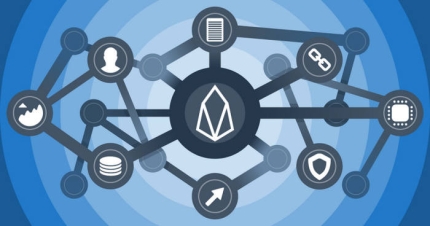 View original
In the international discussion of DID standardization, it is more important to secure the initiative. The banking sector is also actively engaged in building a separate alliance.
According to the financial sector and the telecommunication industry on November 11, three companies including KT and LG Yuplus have joined the block-chain-based IDand authentication network project centered on SK Telecom . The project will include financial institutions such as Koscom, Coin Plug, KEB Hana Bank, Woori Bank, SK Planet and Hatch Labs as well as securities-related institutions and fin tech companies. "As we joined the consortium up to KT recently, we are fully equipped to use the same mobile ID card regardless of which carrier it is using, " said a representative of the consortium. "We will use mobile ID We are discussing it to be possible. " Mobile IDs are often called distributed IDs, DIDs , and so on. Based on the cryptographic characteristics of the block chain, user identity information is not stored in each service provider but directly managed and controlled by the user.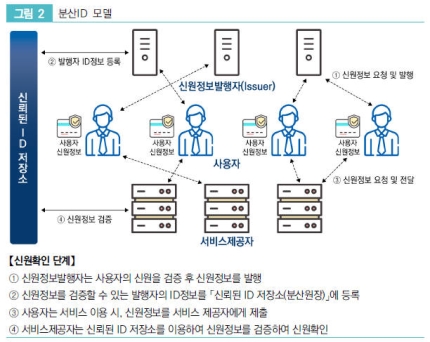 View original
The user stores the identity information on a smart phone or an ID card, and when the identity certificate is required, the issuer such as a communication company or a financial company transmits the authentication information or the real name authentication to the service provider. In addition to identity information, it is also possible to store bank account information and the ID of an individual employer.
The reason why carriers are entering the distributed ID market at the same time is because they hold a strong weapon of authentication of the mobile phone itself. For many years, users can do various tasks such as e-commerce transactions and certificate issuance without a certificate.
Earlier April mobile three companies identity authentication co-branded "pass (introduced jointly PASS ) 'also wihaeseoda to expand the range of use of identity authentication in a variety of areas such as e-commerce.
A consortium official said, "Currently, it is the first step to apply the test to apply to the field of unlisted stock trading and university certification." It will be applied to future e-commerce and my data. " Of course, it is a task to secure operators of various types of industries that can participate in the coalition.
There is a movement in the financial sector to take the initiative. Icon Loop is a service provider of financial services such as brokerage firms, financial investment associations, NH- Nonghyup Bank, and 2 or 3 insurance companies. My-ID) Alliance is preparing to launch.
And the system for applying it to real life. The SK Telecom Consortium Project is part of a government-sponsored private-sector project sponsored by the government in April. Koscom's unlisted corporate shareholder list and transaction activation platform, which is a detailed service of the consortium, has been designated as innovative financial services and will be serviced from November.
Icon Loop's My ID can also be designated as an innovative financial service last month and can be launched within the year. The Financial Services Commission has decided that by submitting my ID, it will be deemed to meet two of the non-face validation methods required by financial companies.
By joining the financial alliance, the company will be able to easily access various services starting with non-face-to-face account opening, and will expand its focus on PinTech, local banks, and e-commerce companies.
With the progress of the standardization debate, it is expected that competition for securing allies of each coalition will be intensified. The reason why the government actively participated in the DID test was that the Korean companies wanted to be able to voice their opinions in the international standardization competition.
W3C, a group that promotes the standardization of web-based technologies, is conducting standardization related to DID and proof of identity. Microsoft ( MS ) and IBM (Global Information Technology)IT ) companies and financial institutions such as MasterCard, oil ports ( uPort ), distributed ID platform yirwojin distributed by companies such as ID Foundation DIF is also in full swing in the technology and standards development.
Kim, Yong - Jin Sogang University professor "Block Chaining-based distribution of IDon one of the most reliable and identification systems might be trustworthy words must," said "communication and finance, university, and public institutions DID the Union between the members for the composition ecosystems will be made lively" "He said.
News of Yu Kyung Il ryuryu @ etnews.com
Status of successful subscription service and introduction strategy
Subscribing to [e-Newspaper] channel at Naver Mobile
Go to e-newspaper
[ Copyright ⓒ electronic newspaper & electronic newspaper internet, reprint and redistribution prohibition]
Thank you sir.
…
Is there a glitch that Coinbase CMC and coin tiger share? ICX is .72 on cointiger. Seems like there's something wrong? If cointiger had some volume this would be an excellent moment to arbitrage
you're welcome !
Bullish
ICON Price Erupts 72% on Huobi While Crypto Exchange Launches on ICX
July 14, 2019 Greg Thomson Altcoins, Cryptocurrencies, Fundamental Analysis
ICON (ICX) made significant moves amid a falling market on Sunday as its price exploded on both the Huobi Global, and Huobi Korea exchanges. ICX surged 72% on the Huobi platforms, while prices on Binance lagged behind.
Once hailed as the 'Korean Ethereum', sentiment on ICX may have been boosted by the recent launch of a digital asset exchange on the ICON blockchain. The VELIC exchange – described as an all-in-one crypto finance platform – apparently launched on ICON after the team reviewed Ethereum, EOS and other major blockchains beforehand, and elected to build on ICX.
ICON Erupts – ICX/USD
After a long and arduous 2018 in which ICX lost 98.57% of its value, the coin showed some signs of revival on Sunday. From the daily low of $0.296520, the value of ICX surged to $0.511637 – a 72% increase.
However, a glance at ICX's markets reveals discrepancies between the prices on various exchanges. The surge appears to have begun on either Huobi or CoinTiger, where you can see the outlier prices still in the high $0.70 range.
Prices on other exchanges did attempt to follow the outlier price, as seen by the massive influx of trades to Binance. The Malta-based exchange hosted the highest concentration of trades on the day, although the ICX price only grew by around 3% there.
ICON struck an all-time low of $0.18 in December 2018, and its recovery until now had failed to keep pace with the rest of the market. Despite that, the team revised its roadmap and continued to build, prompting renewed optimism among bargain hunters at the turn of the year.
Read more: Investing Idea: ICON (ICX)
VELIC Exchange Builds on ICX
VELIC is an acronym for "Vault, Exchange, Loan, Investment, and Crypto asset", giving an idea of the range of features/products VELIC will offer. The collaboration between ICON and VELIC was first announced in January, at which point the VELIC team claimed to have chosen ICON over the likes of Ethereum and EOS:
"Our team reviewed Ethereum, EOS, Hyperledger, and Qtum, however, we ultimately decided to develop on the ICON's loopchain."
According to the team, ICX/USDT trade volume on the VELIC exchange topped $1 million in the 24 hours between July 11-12th. For comparison, the Binance ICX/USDT trade volume for the same time period wasn't too much higher, at $1.5 million.
VELIC wasn't the only dApp (running on ICON's IRC2 infrastructure) announced on ICON recently.
On July 12th the team announced the imminent launch of the first multiplayer game on the ICON blockchain. Titled Battle Bomb Royale , the game is expected to arrive on the mainnet within the next week or so, as per this retweet:
"The BattleBombRoyale team is proud to announce that we will release the first ICON DApp multiplayer-game in real time on mainnet in a week or two. We will perform an open beta test on the TestNet this weekend."
Sounds like holding ICX
lol jk. That's cool price has surged on some exchanges and Dapps are being launched. I hope it holds up better than CryptoKitties.
One of them is ICONex extension for Chrome will support ICON Staking
Hello everyone from DSNC, we are ICON P-Rep candidate.
Please have a look at our presentation here in BitcoinPub forum.
$0.05 EOY.
13 hours…no talk. That's a long time for this room. The time to buy is before the moon, not after.
Here we are again. ICX is rising on CMC and Coinbase but binance it is dumping…???
I think people are not using binance for their icx anymore… and would buy up the majority of sell orders on other exchanges… leaving a higher demand (higher price) on the exchange
don't think so since they have top 2 volumed market for icx pairs