our cryptocurrencies out of the top 20 by market cap are trading above their 200-day moving average - the calculation of the closing prices of an asset over a period of time, as spotted by Coindesk. These are Litecoin (LTC), Binance Coin (BNB), TRON (TRX) and Maker (MKR) - all of which broke through the averages paired against both USD and BTC.
Out of the top 100 coins by market capitalization, nine have seen their price rally by more than 100% in the past month. The obvious leader on this list is Enjin Coin (ENJ), which is up by 540%, followed by MaxiMine Coin (MXM) with 413%, and Crypto.com Chain Token (CRO) with 387%. Additionally, out of the top 100, only seven coins have seen a net decrease in price where the biggest drop happened to TRON with -14.75% - the same coin that currently trades above its 200-day moving average.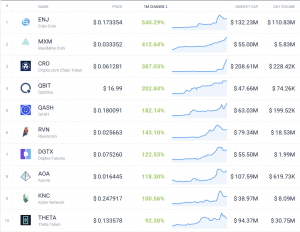 Source: Coincodex, UTC 11:16 AM
The market is indeed looking more positive than it has in a long time, and altcoin season or not, seeing coins in green is refreshing after the entirety of 2018. Regardless of their other opinions on the matter, the whole crypto community agrees that this is a great thing, and their reactions are summarized in a video by Twitter user @wawin.