https://www.bloomberg.com/opinion/articles/2019-08-09/safe-haven-investments-gold-bitcoin-probably-aren-t
Today's Agenda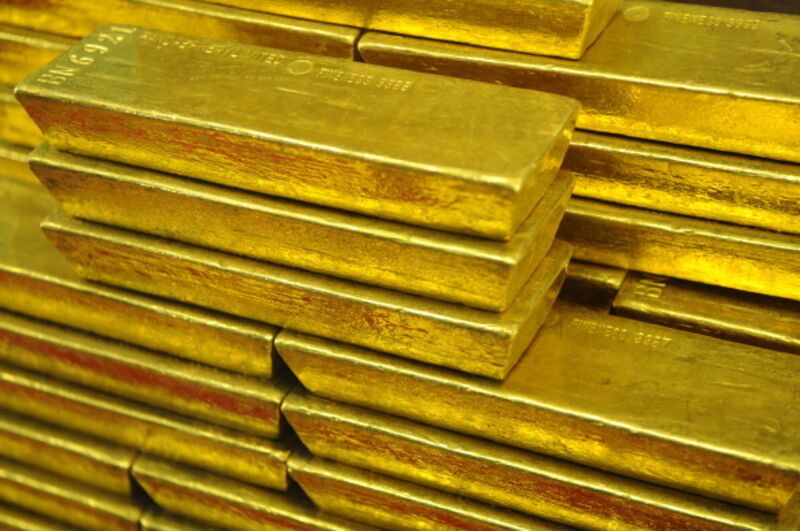 Like Bitcoin, but from the ground.
Photographer: MICHAL CIZEK/AFP/Getty Images
Safety Is an Illusion
Veterans of crisis-era market meltdowns must have felt some nostalgia this week, as trade war fears made stocks fall in bunches again. The losses were quickly reversed but raised a question you might not have considered in a while: Where do you go when all of the money is on fire?
Typical safe havens in ugly markets are gold and Treasury bonds. Lately investors seem to have added Bitcoin to that group. As Lionel Laurent points out, this makes absolutely no sense. Please try to spot the value preservation in this chart: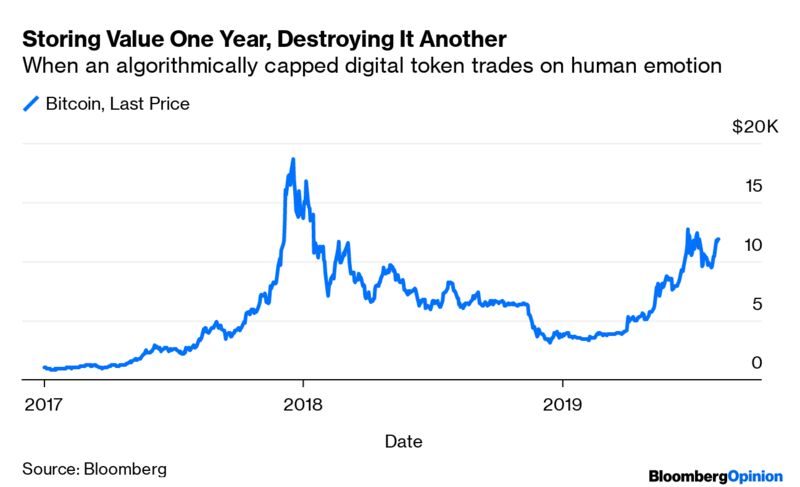 Maybe if you bought at precisely the right time, you did OK. But this is not exactly a slow kiddie ride at the state fair. And gold isn't really much better, Lionel notes. Over the past eight years, despite a prolonged bull market in stocks and economic expansion, Treasury debt has returned 27%, while the barbarous relic has lost 18%.
And though it may look a bit bubbly, the bond market's run may not yet be done. In fact, the 10-year Treasury yield could soon hit a jaw-dropping new low of 1%, writes Komal Sri-Kumar . The outlook for U.S. economic growth and inflation, the trade war, and the economies of Germany and England all may keep investors rushing to bonds.
"So what, stupid newsletter?" you might reasonably ask. "The Fed's cutting rates. Shouldn't I just buy stocks?" Perhaps not, gentle reader. Nir Kaissar points out that, over the long haul, there is no evidence a rate-cutting Fed automatically boosts stocks. Sometimes the opposite happens, in fact. Buckle up for safety!
Walmart's Gun Problem
It's only been a week since the mass shootings in El Paso and Dayton, but it's safe to say Congress remains in no rush to solve America's chronic gun problem. Many frustrated citizens have turned to the private sector instead: Namely, Walmart Inc., America's biggest retailer and gun seller, one of whose stores was the setting for the El Paso massacre.
Protesters want Walmart to stop selling guns altogether, building on a pressure campaign that led it to drop assault rifles in 2015 and raise the minimum gun-buying age to 21 last year. This time, it's done nothing but remove violent video-game displays. But, Sarah Halzack writes, the company can't dodge the gun issue forever. Walmart's profit motive may be more easily swayed than Congress's addiction to NRA cash.
Among the Walmart protesters have been a handful of the company's own workers, notes Sarah Green Carmichael . This insurrection is part of a growing trend of employees pressuring companies over political stances that don't involve labor conditions. You've seen it most often in the tech sector so far, but Sarah explains why this new kind of employee activism will keep spreading.
Pound Pounded
The British pound tumbled today to its lowest level against the euro since the financial crisis, on news the U.K. economy shrank in the latest quarter for the first time since 2012. And then the power went out. Despite all this indignity, Britain's economy should rebound, writes Marcus Ashworth . British political uncertainty, on the other hand, will continue for the foreseeable future, which means the pound will continue to be pounded.
The biggest uncertainty, obviously, is Brexit. Therese Raphael points out a no-deal departure from the EU would ravage the economies of Scotland and Ireland and further stoke independence movements there. Even Wales might get a little restive. Tom Jones could not be reached for comment.
Trade War Risk: Elevated
The U.S.-China trade war seemed to cool down this week, until President Donald Trump squirted lighter fluid all over it this morning, threatening to call off September talks and stop doing business with Huawei Technologies. The U.S. and China could turn the temperature back down with a simple hostage swap, writes David Fickling : The U.S. could go easy on Huawei if China ends its ban on U.S. agricultural imports. Both sides have more to gain from this than they have to lose, David suggests.
Telltale Charts
The productivity of scientific research desperately needs a boost, writes Noah Smith . (Unfortunately, scientific funding is a victim of Trump's apparent desire to wreck the U.S. government, writes Jonathan Bernstein .)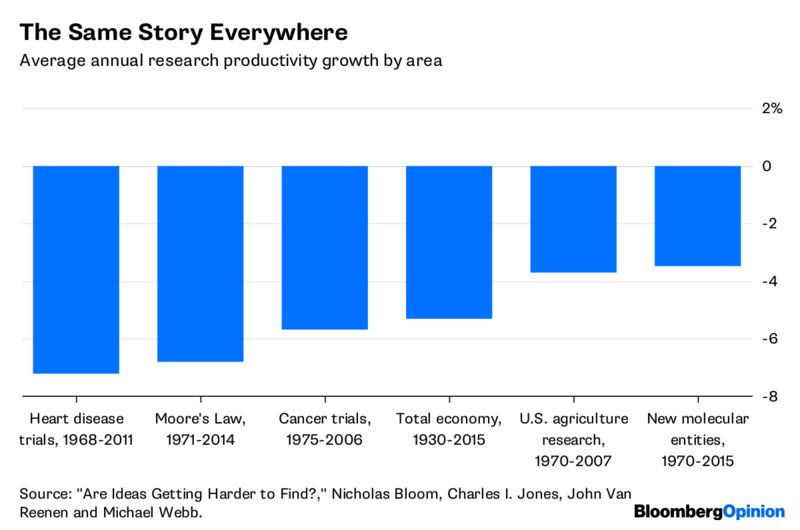 "Are Ideas Getting Harder to Find?," Nicholas Bloom, Charles I. Jones, John Van Reenen and Michael Webb.
Further Reading
California is right to try to force Trump to release his tax returns. Presidents and other public servants must know they can't use their office for personal financial gain. – Bloomberg's editorial board
Matteo Salvini will soon be unable to dodge the hard choices of governing Italy. – Ferdinando Giugliano
CBS Corp. and Viacom Inc. just demonstrated why they've gotta get back together. – Tara Lachapelle
A settlement of $6 billion or $8 billion would be a small price for Bayer AG to close its Roundup chapter. – Chris Hughes
Ahead of Saudi Aramco's massive IPO, there are three big questions. – Ellen Wald
Trump wants to shift foreign policy away from counter terrorism toward great-power conflict. This is a false choice. – Eli Lake
Something weird is up with the universe, and it could be evidence of a mirror world. – Faye Flam
ICYMI
Joe Biden says "poor kids" are just as smart as "white kids."
The world's first and biggest ETF depends on the lives of 11 kids.
The world's biggest forest has been burning for months. (Thank climate change, writes Leonid Bershidsky .)
Kickers
Alaskan finds 50-year-old Soviet message in a bottle.
Scientists make vodka from Chernobyl crops. (h/t for first two kickers to "Comrade" Scott Kominers )
How deep-ocean sharks glow to each other. (h/t James "Cousteau" Greiff )
How'd your team do at the Premier League transfer window?